Asen's Fortress
Asen's Fortress is a medieval fortress in the Rhodope Mountains, it is located 2-3 km south of Asenovgrad. It is named after the Bulgarian tsar Ivan Asen II. The fortification stands proudly on a high rocky ridge on the left bank of Asenitsa River. According to some researchers, its old name is Petrich.
History
The first archaeological findings in the area around the fortress date back to the time when Thracians inhabited the area. For centuries, this land and the fortress were in the lands of the Ancient Roman and Byzantine Empire. Because of its strategic position near the Rhodope Mountains, the fortress played a serious role in the wars between the Bulgarian and Byzantine Empire.
The fortress was first mentioned in the statue of the Bachkovo Monastery in the 11th century. During the Third Crusade, the fortification was conquered by the crusaders. Two centuries later, the fortress was under Bulgarian control. In 1231, the Bulgarian tsar Ivan Asen II ordered the fortress to be repaired and additionally fortified. It served as a border fortification against Latin raids, evidence for that is the eight-line wall inscription in the fortress. The fortress was later captured again back by the Byzantines, despite that in 1344 another Bulgarian ruler succeeded in capturing it. Sadly, it was later destroyed and ravaged by the Ottomans in the 14th century. The fortress was abandoned and left in ruins.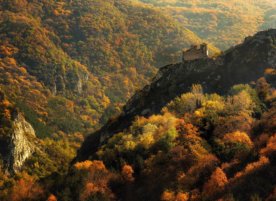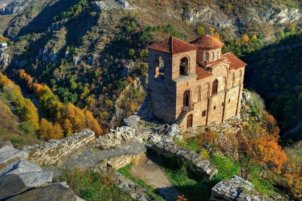 The most preserved and notable building of Asen's Fortress is the Church of the Holy Mother of God. It was constructed sometime around 12th-13th century. The church is in its same appearance as it was centuries ago, however, there was some partial restoration works in 1991.  Nowadays, the church is an active Bulgarian Orthodox church. Its rectangular tower is regarded as the earliest preserved of its kind in the Balkans. Most of the frescoes can still be seen on the walls inside the church. More restoration works and improvements were made in 2013. Another interesting fact is that the town Asenovgrad(formerly Stanimaka) took its name from the fortress.
How to get there?
The Fortress is located 2-3 km just outside of the town. Follow the road to Smolyan and at the very end of Asenovgrad, you will see a road to the right, which will lead you to the Fortress. The nature and the views in the area are more than lovely – we advise you, if possible, to walk up the hill.